Francis Joyon with his five team members broke the round-the-world sailing record.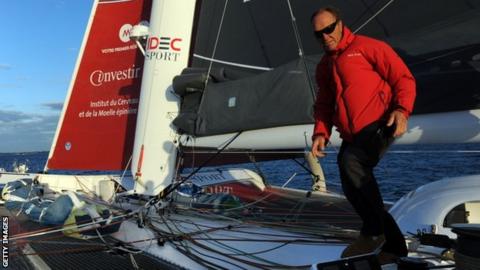 They become the first sailing team to circumnavigate the globe in 40 days without taking assistance anytime.
The team entered Brest on the France west coast on their 31 meters maxi-trimaran Idec Sport after spending 40 days 23 hours 30 minutes and 30 seconds at sea.
The record was first in the name of Frenchman Loick Peyron. In 2012, Payron circumnavigate the Globe without any assistance. He completed the journey in 45 days, 13 hours, 42 minutes and 53 seconds. Peyron was with 13 crew members and that time they won the Jules Verne Trophy on a 40 meter craft. Joyon has broken the record of Peyron by over four days.
The record of Joyon is the third round-the-world. Thomas Coville the sailor from France pulverized the circumnavigation solo record on December 25; he completed the tour in 49 days 03 hours and 7 minutes. It was faster by eight days than the previous record.
The previous record was held by Ellen MacArthur British sailor. The mark of MacArthur was broken by Coville then Joyon after the period of over eight years.
Joyon is over sixty years of age and enjoy sailing at this point of time as well. According to Joyon, his voyage was better than previous in all the respects. He said, "I enjoyed the complete trip, it was full of fun and excitement. All five crew members on boat with Joyon also were too good in their work"
Sailing has seen another record broken by Armel Le Cléac'h. The record is of epic solo, non-stop Vendee Globe. Cléac'h not only became the winner of this race, but also created the record by completing it in 74 days 3 hours 35 minutes a week ago.